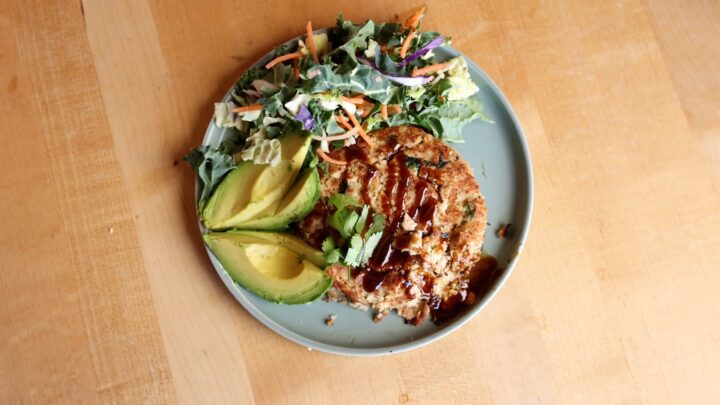 Tembo Tusk Salmon Cakes Recipe
Tired of the usual flavorless freeze-dried camp food? Try this simple and delicious Asian-inspired recipe. These salmon cakes are ideal after a long day on the trail or while out camping. Only taking a short time to make, while still taking your camp kitchen skills to the next level. Perfect served with rice and vegetables of your choice. 
Recipe
Preparation time: 10 minutes
Cook time: 10 minutes
Total time: 20 min
Feeds: 1-2 people. 
Makes 2 Salmon Cakes
Ingredients:
7-8 ounces cooked salmon 
1/4 to 1/3 cup of toasted bread crumbs
1 egg
1 teaspoon lemon juice
1 tablespoon mayonnaise 
2 cloves finely minced garlic
2 scallions, sliced
1 teaspoon finely minced fresh ginger
3 tablespoons minced cilantro
Salt & freshly ground pepper to taste
1 tablespoon coconut oil
2-4 tablespoons hoisin sauce
Instructions
In a large bowl combine salmon, mayonnaise, garlic, scallions, toasted bread crumbs, egg, lemon juice, ginger, cilantro, salt and pepper to taste, then combine thoroughly.
Gently form into two salmon cakes roughly ½  inch thick each.
Heat Tembo Tusk Skottle wok over medium heat, when hot add coconut oil.
Place both salmon cakes near the center of the Tembo Tusk Skottle Grill, sear for 4-5 minutes on each side. 
Let cool for 2 minutes, drizzle with hoisin sauce then enjoy alongside your choice of grain and vegetable.
The salmon cake mixture can be stored for up to 2 days in the refrigerator, so whip this up and bring it along on your next adventure!