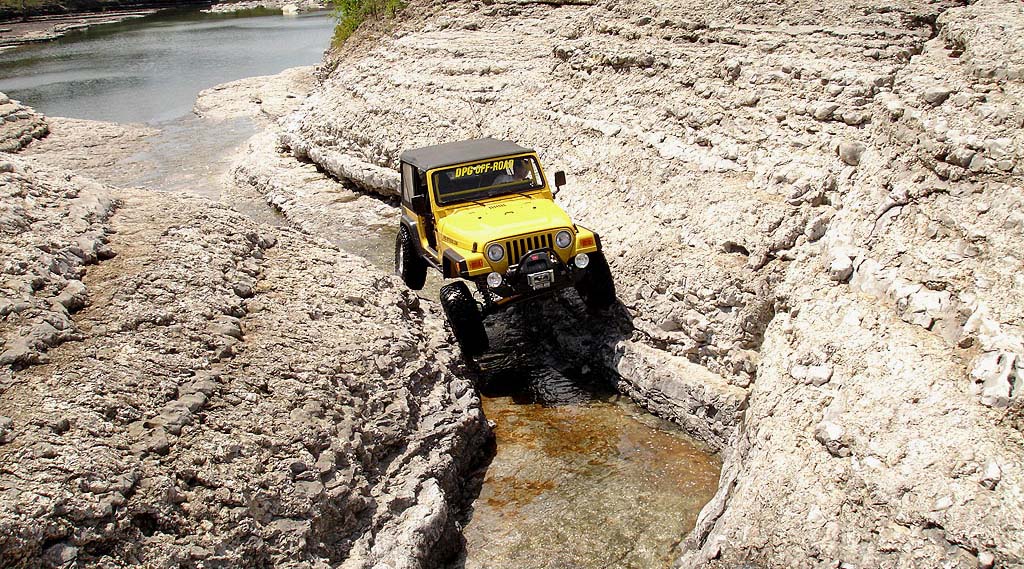 Our Top 5 Favorite Places to Offroad in Oklahoma
Once you've got your truck together, and the trails start calling your name, where do you want to go?  In this series, we've done the research for you. Today, we're looking at the state of Oklahoma.
Disney Island
About an hour northeast of Tulsa, Oklahoma offroaders will find the town of Disney.  Despite what you might think, the town has no relation to any cartoon mice. Instead, it was a small boom town, built up on an island in the 1930s that's now accessible only via the one mile Pensacola Dam.  Disney is technically an island unto itself, in the south corner of the Great Lake o' the Cherokees. With a population of just over 300, nearly the entire island is dedicated to offroading. Which might sound really exciting at first, but it's less than 1.5 square miles in its entirety.
On the island, wheelers will find miles of trails, and rock crawling that's unmatched anywhere else in the state.  Bring your friends with UTVs and jeeps, but there isn't a great opportunity for large full size trucks out here. Otherwise, drivers and rigs of all levels will have a blast, and camping options are plentiful but they stay very busy when the weather is good.  Make sure you have a reservation. If you're into more glamorous wheeling weekends, you're going to want to look elsewhere for your weekend adventure--there are no hotels on the island.
Sundog Trails
If you live the Oklahoma City area and you're itching to hit the trails, even just for the day, Sundog Trails might be exactly what you need.  It's just about an hour outside of the city, and it's got a little something for wheelers at all levels. Most of this privately owned park is adjacent to the Canadian River.  It's privately owned, so expect to pay a small entry fee when you get there. It's well worth the price of admission, though. Swimming in the river is allowed, which is great when you want to make a weekend of it with the whole family.  
Most of the trails are sandy, and not particularly difficult, so for new adventurers, it can be a great spot to get your feet wet without being hours from cell service in the middle of nowhere.  There's plenty of camping allowed all over the park, and even more options outside, and you take on the trails at Sundog nearly any time of year.
Kiamichi Trail
If you're an Oklahoma wheeler, you know the K-Trail.  If you're new to the area, or thinking about road tripping to your adventure, the Kiamichi, or just K, Trail is well worth the drive time.  The trail is about 80 miles in total, through the Ouachita National Forest. Unfortunately, some local land owners have succeeded in privatizing the second half of the trail, but the first 40 miles or so is still a great adventure.  On the trail, you'll find mud, and some rock crawling strenuous enough to make you work, but probably not strenuous enough to make you stress. Because the Kiamichi Trail is fairly narrow, and very tree lined, you're going to want to make sure you've got the right tools clear any downed trees, should you happen across them.
There's plenty of camping in and around the national forest, so take some friends and some camping gear, and make a weekend of the renowned K Trail!
Little Sahara State Park
A little known fact outside of Oklahoma: you don't have to drive a thousand miles to get to some sand dunes!  If you want to try your hand at wheeling in the sand, you only have to go about two hours northwest of Oklahoma City to Little Sahara State Park.  If you think this is in your plans, make sure you're set up for sand -- it's a different beast. If you're not sure you've got what it takes, you can check out our recommendations.
If you don't have a rig setup for the sand, and you want to go play for the weekend anyway, don't worry -- there are plenty of rentals available nearby for ATVs and UTVs, so you can still have a blast.  There's also lots of camping available in the area, so take the family and have a great time all weekend. 
Crossbar Ranch
Just an hour outside of Oklahoma City, you can ride all weekend at CrossBar Ranch.  Crossbar is a privately owned offroad park, so expect the $15 cost of admission when you show up.  With over 6,500 acres, and plenty of maintained trails, it's got everything you could want in a family-friendly weekend of offroading fun without having to drive further than your morning commute.
At Crossbar, you'll find everything from luxury accommodations to primitive campsites, restaurants, a repair center, and even a general store with fuel.  It's offroading with all the luxuries, and something for everyone to enjoy while you're there.

Before you go anywhere offroad, make sure you've got your truck loaded with the essentials, and don't ever rely on strangers on the internet for navigation advice.  Pick up a map on your way in, and know how to read it before you get there.
No matter where your adventures take you, when you're ready to hit the trails, we've got all the gear and expertise you need.  Call or email our helpful team of off road experts, and we'll get all your questions answered so you can have a great time on the trails without worrying about all the details.