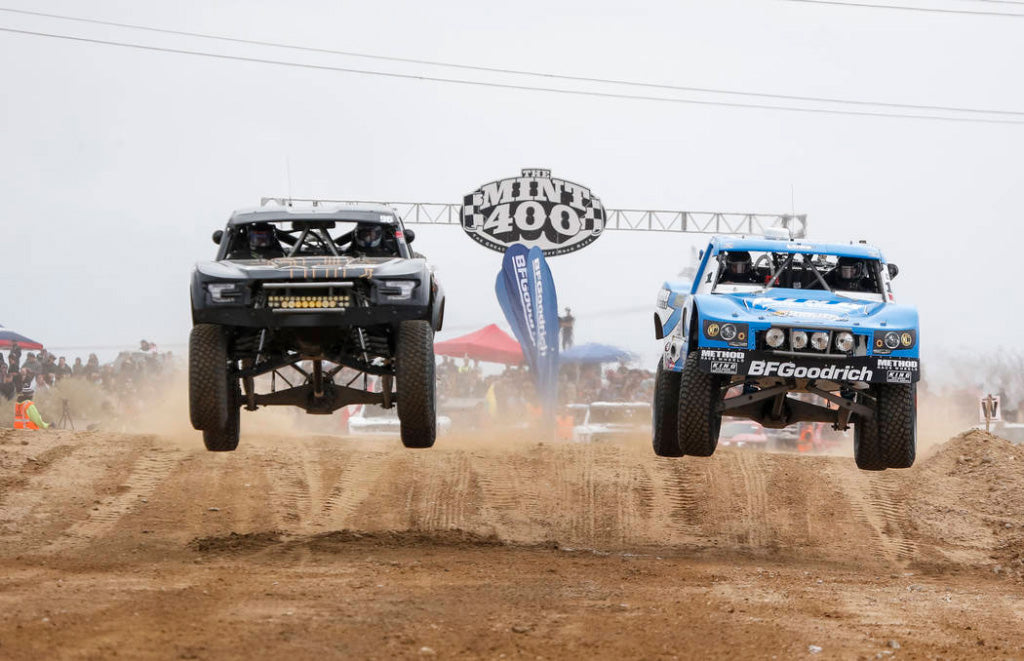 The Mint 400 Las Vegas: How to Spectate the Great American Desert Race
The Mint 400, or as they like to call it, "The Great American Desert Race," is one of the most popular desert races for American spectators to go out and watch.  It's easy to see why: no international borders to cross, grandstands and safe viewing areas all over the course, and Vegas as the quintessential backdrop.
You haven't experienced offroad trucks until you've taken in a field of the world's best racers and their incredible machines under the lights of Fremont Street in Las Vegas.  So what's the best way to plan your weekend? We'll help you sort out the details in this handy how to article.
Tech and Contingency is Actually a Spectator Driven Party….Wait, what?
When you see "tech/contingency" listed on a schedule of events, and you're planning to go as a spectator, you probably think, "well, that doesn't apply to me!" and move on.  If you do that during the Mint 400, you'll be missing out.
You're right that you don't have a truck to tech before the race, but all of the coolest trucks do (obviously). At the Mint 400, they've turned tech/contingency into a full blown festival for people who've come into town to watch the race.  It's held on Fremont Street, and you'll have an opportunity to get up close and personal with the trucks, and the drivers.  
Drivers do signings, models do signings, and the trucks are all out on display under the lights of the old-school cool Vegas casinos on Fremont Street. 
All the action kicks off Wednesday, but Thursday is when it actually starts to get good. Here's our advice: head out to Vegas after work on Wednesday, and start Thursday morning on Fremont Street, checking out the trucks, and taking in the sights. 
You may not want to spend two full days on Fremont Street with the offroad community wandering in droves, but you'll beat the crowds.  You can still do some regular old Vegas debauchery on Friday, or head back to Fremont street for the big Mint 400 block party before the race kicks off Saturday morning.
Then Pack Up and Get Out of Las Vegas!
No really, pack up your stuff, and get out of Las Vegas.  It's time to head to Vegas' lesser known friend, Primm, Nevada.  Known by anyone passing through from California as "Stateline," these are the hotels and resorts where you'll actually want to stay for the race weekend. 
Depending on whether or not you plan to watch the bikes race (which you should -- those guys are nuts, but do what your heart feels here). If you want to watch the bikes race, you're going to want to be here early -- before 7 am.  If you're just aiming to sleep off the Vegas fun you had the night before, trucks don't start racing until about 1:30, so you'll have plenty of time to get on the road, make the 40ish mile trip to Primm, and find a good spot to watch from.
Spectator Seating Choices for The Mint 400
There are four different spectator areas during the Mint 400 for your viewing pleasure.  You can setup at the start/finish area, where you'll be in the midst of one kind of chaos -- the vendor midway, concessions, and generally activities to keep the whole family entertained when there is downtime.  You'll have a good view for when the celebrations start and winners come rolling across the finish line.
For a different kind of party, you can also pick up the spectator passes for the viewing areas in Jean, just outside of Primm.  The two Jean spectating areas are sold as separate tickets, so if you want to check out more than one, make sure to plan and purchase accordingly -- you can move between them during the race. 
Either way, make sure you buy your tickets well in advance. They sell out fast! One other note here: if you're flying in, and worried about your rental car being able to survive the Jean viewing areas, you won't have a problem - they're accessible to all types of cars without an issue.
These parking areas will allow you to safely watch on the side of the race course, so you can take in these amazing off road racing machines in all their glory, tearing through the desert at full speed.  While you're there, you can grill, have a beer, and make new friends.
Just make good choices -- BLM and the Police are there to enforce speeding laws, and hand out citations for people trashing the desert.  Remember all those Leave No Trace principles we've talked about? Use them. It's good for the desert, and good for your wallet.
Another note here: Get to the Jean spectating areas early, and make sure you roll in with whoever you want to park and party with -- the spectating areas fill up fast, and they won't let you save a parking spot for your buddies who "just right behind you."
Regardless of where you watch the race from, make sure you hit up the vendor areas at the start and finish and check out the vendor festival they'll have going on.  Once the winners start rolling in on Saturday night, it'll be time to party all over again!
Before you go anywhere offroad, make sure you've got your truck loaded with the essentials, to keep both you and your truck protected from the hazards you might encounter out on the trail.
No matter where your adventures take you, when you're ready to hit the trails, we've got all the gear and expertise you need.  Call or email our helpful team of off road experts, and we'll get all your questions answered so you can have a great time on the trails without worrying about all the details.