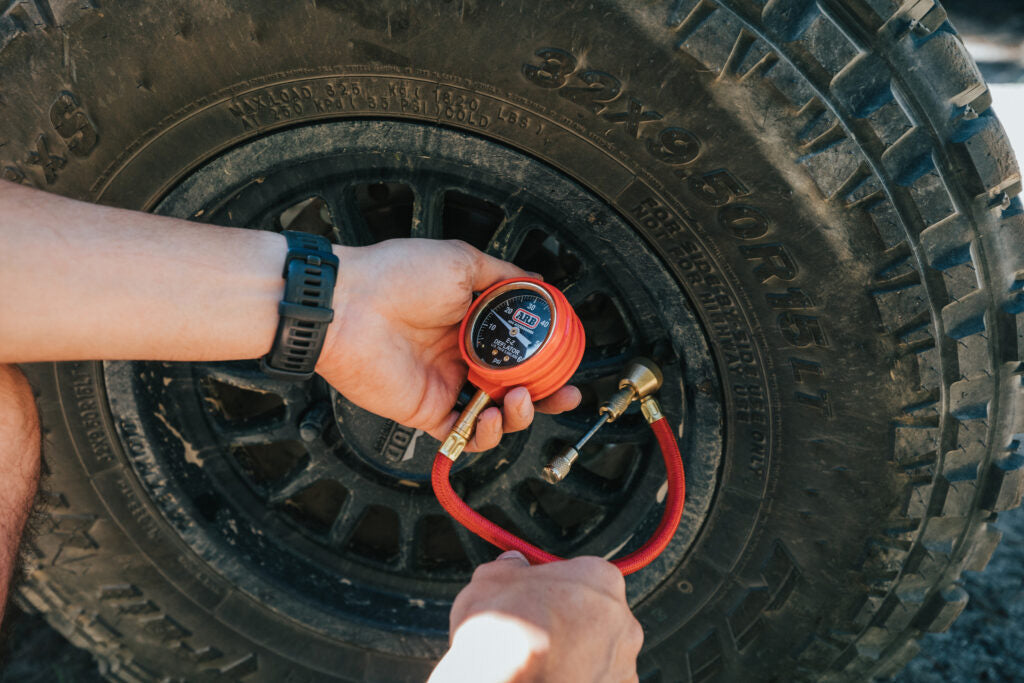 The Pressure's On: Choosing the Right Onboard Air for You
For any trail worth exploring, you're going to want to air down your tires when you get to the dirt.  Most of us are driving to the trailheads though, so when the adventuring is over for the weekend, you're going to need to air back up.  Thanks to years of experience in offroading and overlanding adventures, we know how to choose the best way for you to do just that. Check out our eight favorite picks for the best ways to onboard air for your offroad rig:
Air Tanks
CO2 Air Tanks
CO2 air tanks are a fast way to air up, but they're not our favorite way to get the job done for one major reason -- refills.  Although the initial investment is usually lower, dealing with getting the tanks refilled when you're in town isn't just costly, it can be frustrating and time consuming.  You have to worry about them knocking around too hard while you're on the trail, and they can take up more space than you'd anticipate. If, despite all of this, you decide to buy one, get the largest one you can reasonably secure in your rig.  The last thing you want is to get half your tires filled and then out of CO2 when you're ready to get on the road home.
PacBrake Air Tank
A refillable portable air tank is a good alternative that doesn't require paying for refills, but it does require more than just the tank to hit the road.  When you match it with a good compressor, it can give you some portable air to go that's great for using when you are out on the trails. It's less hassle, and much less cost than the CO2 alternative.  There are also plenty of sizes available. If a portable air tank sounds like something that would work for you, check out the PacBrake series.  Every PacBrake tank is designed and built to last, and includes mounting brackets, so that storage can be less of an issue in your rig.  
Compressors


In the last few years, compressor technology has really come a long way.  They're smaller and more powerful than they have ever been, and priced for anybody who wants to get outside and to do some adventuring.  Different style are better for different things, though, so make sure you choose the one that's right for you.
Portable Compressors
When it comes to portable compressors, the ARB CKTMP12 is the favorite around here.  It comes in a shatterproof case with all the mounting hardware to keep it up and out of the way, safe and secure when you're on the trail.  ARB thought of everything with the setup, too. It has seven feet of battery cables with well-built alligator clips so you can hook up to your battery easily, and run it wherever you need it to go while you're out on the trail.  The mounting brackets are built with anti-vibration and sound deadening materials, to preserve the life of the compressor, no matter how many rough miles you're putting on your truck. The CKTMP12 has enough power behind it to fill tires and even power air tools, and it comes with enough fittings to do whatever you need it to do. It's a great do it all work horse for anybody's rig.
Permanently Mounted Compressors
If you're looking for an air compressor that will work well when you're trying to install air lockers, ARB has a great option for that, too.  Permanently mounted compressors like this can look at a glance like they are an option for trailside work, cleaning off, or even inflating tires (especially if you are primarily doing online shopping for these types of truck accessories), but that's just not the case.  Small, permanently mounted compressors like this are built for a single purpose -- locker installation. Don't make the mistake of thinking you can rely on this out on the trail for anything else.
The Perfect Compressor for Inflating Tires
If you're looking for a permanently mounted compressor that can take on any task you throw at it with ease, the ARB CKMA12 is the compressor you need.  You can fill up everything from your tires at the end of the trail to your air mattress when you very first get into camp.  It can activate air lockers, and run pneumatic tools, too. With the compressor itself, and the ARB Pump-Up kit, you'll have have everything you need.
Accessories
Without the right accessories, even the best compressor or air tank won't be good for much when you're out on the trail.  
Deflators
It's easy to make excuses to not buy this one -- we get it.  You're not going to need it.  But you're definitely going to want it.  The ARB Digital EZ deflator will let you get that key out of your valve stem and stand up.  Trust us, once you've used a simple push-button deflator, watching your tire pressure drop with clear visibility, rather than guess-check-guess-checking your way from 35PSI to 15PSI, crouching with a key in hand will be a thing of the past.
Inflators
Make sure you have a good inflator handy, as inflating tires will probably be the most important task you use your choice of onboard air for.  The ARB Digital Air Inflator is a great choice that will make sure you get exactly the pressure you need in your tires to stay safe on the road.  The backlit display makes it easy to read no matter the lighting at the end of a long day on the trail, and at nearly two feet long, the hose spares you from bending over for extended periods when you're already exhausted from the trail.
If you're ready to get out on the trail, but still need some onboard air for your rig to make sure you can get you home safely, we can help.  Give our helpful team of offroading enthusiasts a call, or shoot us an email, and we will get you on the trail as fast as we can, with the comfortable camping gear that makes sense for you.