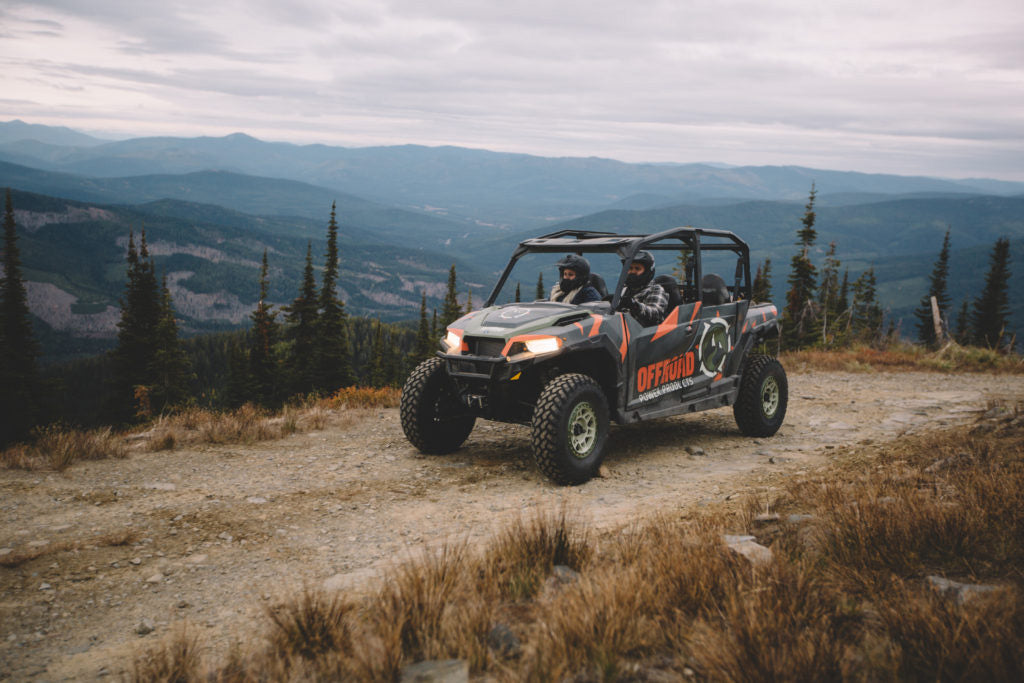 Where to Wheel: Washington State
Where to go?
Once you've got your truck together, and the trails start calling your name, where do you want to go?  In this series, we've done the research for you. Starting with our home state of Washington, we'll show you all the best trails near you, wherever you are.
Walker Valley
At about 3,200 square miles, Walker Valley is perfect for a weekend of offroading, and it's pretty central in the state, about 70 miles north of Seattle.  Most of the trails are rated for moderately difficult, achievable for anyone with basic modifications to their rig. Make sure to check the status on the park before you head out.  This park is generally open year round, but there are some exceptions in the event of particularly bad weather.
You'll need a Washington State Discovery Pass to hit up these trails -- you can get one near the park, or buy one online, and save yourself the time when all you really want to do is get on the trails.
Manastash Ridge
Manastash Ridge is a great area for everyone, but it's especially well suited for first time offroaders.  If you're just starting to get your feet wet, you'll be able to take on over 100 miles of beautiful, well-maintained trails.  The elevation changes aren't super dramatic, so you'll be able to comfortably get your fix while learning what your truck is really capable of in the process.  It's a great way to test your limits, and plan your next modifications without getting in way over your head.
You'll need a Recreation Pass for this trail (pick one up online ahead of time here), or the daily fee is just five bucks!  For you Discovery Pass users -- it's not valid at Manastash because it's a federally owned park.  Don't get yourself in trouble for something so simple.
Evans Creek
If you're looking for something a little more advanced, Evan's Creek could be exactly what you need.  It's not a huge area, with just over 20 miles in trails you can cover, but it's a more challenging selection.  Some of the trails gain 5,600 feet in elevation along the way. They're fairly technical trails, and you're going to want to be sure of the trail conditions before you head out.  Know what you're getting yourself into, especially if it's been raining, as some of the trails at Evan's Creek can really take a beating when there's wet weather.
If you're heading to Evans Creek, you'll need a Northwest Forest Pass.  Grab one online before you head out, or pick one up near the trailhead - they're available all over the area from outdoor stores to gas stations.
Rimrock Lake
Rimrock Lake area trails are not for the faint of heart.  Before you head to this area, make sure you know what you're doing.  A rollover here could send you tumbling a very long way. It's also worth paying attention to the weather.  Even the trails that generally are considered to be "moderate" difficulty in the area become very difficult to navigate when they're impacted by rain or snow.  Some trails at the higher elevations just become impassable with snow, so do some research ahead of time, and choose your trails carefully.
Also, Rimrock Lake trails are known for being exceptionally narrow, so while we fully appreciate your Full Size Invasion spirit, the trees probably don't.  Avoid this one if you're trying to wheel a Suburban or the like.
All that said, if you're equipped for the trails, and have the experience required, there are some beautiful views to be had.  You'll find challenging trails, incredible views, and great camping opportunities.

Make sure to pick up a Northwest Forest Pass before you head out, or in a pinch, you can grab one near the trailhead.
Naches Pass
The Naches Pass trail, located just over an hour from Seatte is a little over 12 miles of easy to moderate level wheeling, but expect it to take about 4 hours to complete.  Most rigs are equipped from the factory well enough to take on this challenge. You'll find beautiful views of Mount Rainier, and the valleys surrounding the trail.
Because the Naches Pass was travelled by wagon trains full of early settlers and pioneers, you'll find some pretty cool stopping points outside of your standard trailside views, and maybe even learn a little along the way.  
Where the Naches Pass Trail meets the Pacific Crest Trail (a national scenic trail that runs from Mexico to Canada), you'll find Camp Urich.  Camp Urich includes a log cabin built for public use on a first come, first served basis, as well as an outhouse you can use if need should arise.  From the cabin, you'll have a clear view of Government Meadows, and you're likely to catch some wildlife in action if you hang out for a while.
You'll need a Recreation Pass, so make sure to pick one up before you hit the trails, either online or near the trail head.  
For even more trails in the area, check out NWjeepn.com.
No matter where your adventures take you, when you're ready to hit the trails, we've got all the gear and expertise you need.  Call or email our helpful team of offroad experts, and we'll get all your questions answered so you can have a great time on the trails without worrying about all the details.