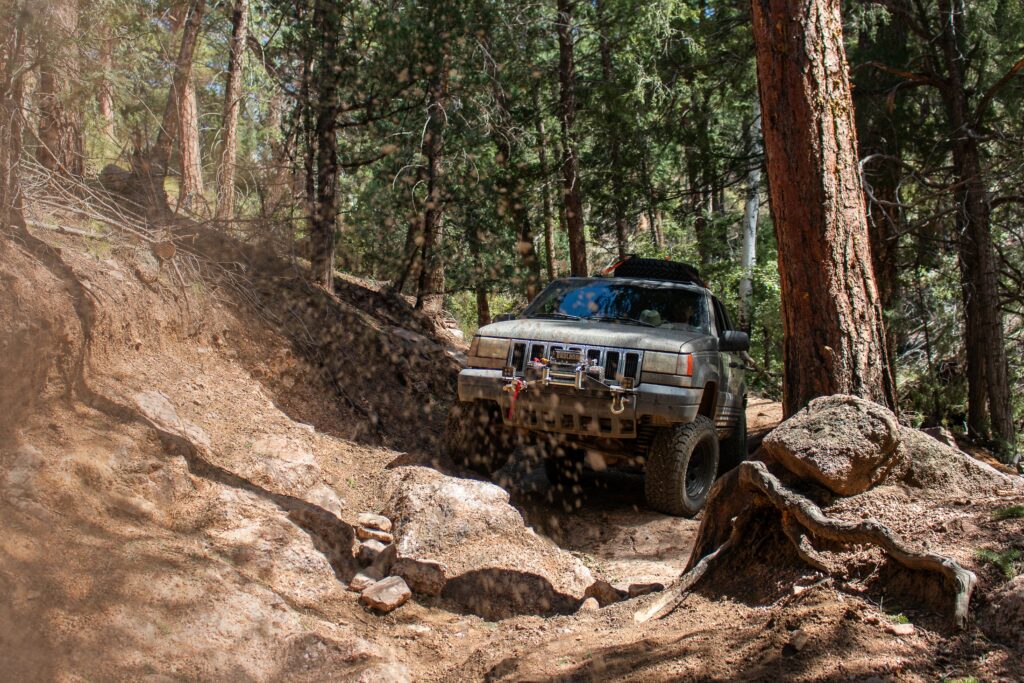 Where to Wheel: Colorado Our 5 Favorite Places to Offroad in Colorado
Once you've got your truck together, and the trails start calling your name, where do you want to go?  In this series, we've done the research for you. Today, we're looking at the state of Colorado, where there are mountain views like nowhere else in the good old United States.
Yankee Hill / St. Mary's Trail
About two hours outside of Denver in the Roosevelt National Forest, you can pick up the Yankee Hill trail.  Yankee hill is a fairly technical trail, so you're going to want a small lift, and you're going to need at least upgraded tires on your truck.  It's about 15 miles of reasonably challenging trail.
For an extra challenge, people take on this trail during the snowy season.  The views are great year round. It can get busy on the weekends, and it's very popular with ATV riders, so keep your eyes open when you're out there.  When you get to the top, you can look forward to taking in a great view of the St. Mary's glacier and taking a break to take it all in. Time it for the wildflower blooms, and you'll get all the photo opps your instagram can handle.
Wagon Wheel Trail System
If you're looking for a great destination wheeling weekend with endless trails for trucks and drivers at any level, Colorado's Wagon Wheel trail system has everything you're looking for. With 16 loops that make up over 250 miles of trails, there's something available for wheelers at every level.  
There are several places to pick up the trail in the town of Meeker, but if you're looking to spend even more time in the great outdoors, there are some great camping options available, too. The North Fork campground connects to the northern side of the system, but it stays very busy, so make sure to check for reservations before you commit to that plan.  There are two more good campgrounds on the southern side -- Meadow Lake and Meadow Ridge, and they're both great options, too.
Alpine Loop
Just outside of Ouray in Southwestern Colorado, you can hop on the Alpine Loop scenic byway.  It's got killer mountain views, and it's ideal for Jeeps, though some full size trucks might be able to pull it off.  About a third of the trail actually requires it, but any truck with four wheel drive should be able to pull of this 63 mile loop -- just make sure you dedicate a full day to it.
The loop is full of great camping opportunities, so you can stretch the trip out over a few days, and leave plenty of time to hike and explore along the way.
Mount Baldy
About fifteen miles outside of Colorado Springs, you can pick up the Mount Baldy trail in the Pike National Forest.  It's an easy trail, and at just over six miles, you can expect to spend just a couple hours on the trail. It's an out and back, so make sure you leave time to retrace your steps.  Despite it's relatively easy rating, it's a fairly remote trail, so it's pretty lightly travelled. It's got some amazing views.
If you're looking for camping in the area, just grab your favorite spot, and follow the basic rules for dispersed camping. For more on that, be sure to go back and check out our camping articles.
Kelly Flats
Kelly Flats is just a few miles outside of Fort Collins, but it's got a great trail that's easily worth the short trip.  It's just 10 miles long, but you can expect this more challenging trail to take you a few hours. It's best known for two major obstacles -- heart attack hill and the Chutes.  You can get around Heart Attack Hill with the bypass called Aneurysm Hill. Yes, we're serious. As the name suggests, it's also not a walk in the park.  
This trail can be alot for beginners to deal with, but it's doable, and with the optional obstacles added in, it's challenging enough for everyone in your group to stay interested.
Before you go anywhere offroad, make sure you've got your truck loaded with the essentials, and don't ever rely on strangers on the internet for navigation advice.  Pick up a map on your way in, and know how to read it before you get there.
No matter where your adventures take you, when you're ready to hit the trails, we've got all the gear and expertise you need.  Call or email our helpful team of offroad experts, and we'll get all your questions answered so you can have a great time on the trails without worrying about all the details.