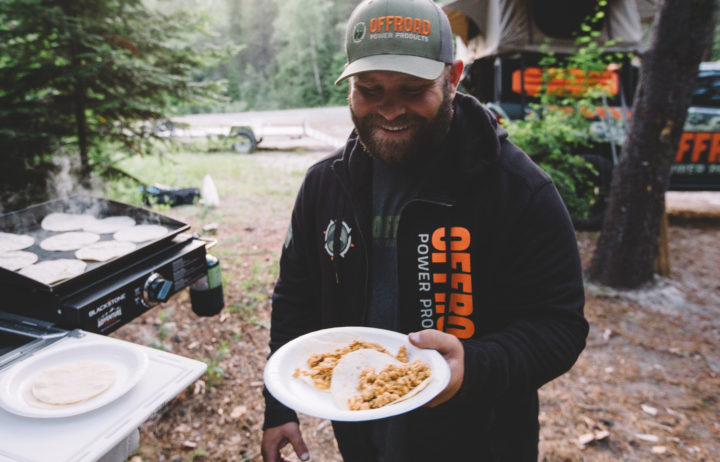 Nothing brings people together like a great meal cooked outdoors. Get ready for your next adventure with these camp kitchen essentials.
Originating in South Africa, a skottle is a large, circular cooking disc traditionally used straight over a fire. Tembo Tusk's modern take on the Skottle adds the convenience of a gas canister and legs. If you're unfamiliar with the Skottle, think of a heavy-duty wok and you've got the basic idea. You can cook pretty much anything on a Skottle that you can cook on a traditional grill but you can also whip up scrambles, fried rice, and noodle dishes. In other words, the skottle pretty much does it all. The Skottle is fabricated in the USA and comes pre-seasoned so it can be used immediately. 
The Tembo Tusk Camp Table is a premium, made-in-America camping table with an attractive bamboo table top. Its unique hook and hoop system allows multiple tables to be daisy-chained together either length-wise or width-wise The Camp Table comes with an extremely durable carry bag with integral leg storage in the cover. Most camp tables are flimsy and poorly built—not this table. Quality materials and careful craftsmanship elevate the Tembo Tusk table into a class of its own.
A Skottle makes camp cooking easy. Adding a Skottle Leg Table makes it even easier. Made of half-inch bamboo and capable of holding a static weight of 25 pounds, this ingenious table attaches to the leg of a Skottle. It's perfect for holding a condiments, seasonings, cooking tools, or cutlery, and its height is easily adjustable. Now you no longer need to balance everything in one hand and cook with the other! And it even fits in the carry bag used with the Skottle. 
Level up your Skottle cooking game with a Steam Tray and Lid. These handy accessories turn a skottle into a multi-functional cooking machine that allows you to steam vegetables, cook quicker, smoke meat, and even bake cookies and cinnamon rolls. The lid is made of stainless steel with a heat resistant Bakelite handle and features a built-in loop that lets you hang it up when you're not using it.
The TailGater Tire Table is a durable steel travel table that cantilevers off a tire on your vehicle or camper. It's easy to store, it packs flat, and it sets up quickly. It's perfect for tailgating, impromptu outdoor gatherings, and camping—it even doubles as a convenient workbench if you're working on your vehicle. It holds up to fifty pounds, it fits most tires 14" and up, it weighs under 12 pounds, and it can be assembled in seconds. The Tailgater Table is a simple, ingenious accessory that you'll be able to enjoy for years to come.
Outback Adventure Trailgater Table
The Trailgater Table is a hide-away kitchen table designed specifically for Jeep Wranglers. It attaches inside the tailgate, so it's invisible when the tailgate is closed. Open the tailgate, and a spacious stainless steel cooking table folds down and a bamboo cutting board conveniently slides out from under the table. The entire assembly is easily attached and held in place with two rattle- free spring latch pins. Now you can serve trail snacks or cook an entire meal from you tailgate. The 600 square inches of working surface provides ample room for a camp stove as well as cooking utensils, mixing bowls, plates, cups, and more. It's the perfect accessory for your next off road Jeep adventure!
An ice-chilled cooler is fine for short excursions, but ice only stays cold for so long. For this reason, electric coolers have become increasingly popular in the last few years. Featuring generous fridge capacity, a freezer, digital temperature displays, reinforced corners, and steel hinges, the Dometic CFX3 Powered Cooler Fridge will turn your backcountry basecamp into a gourmet restaurant. No more melted ice. No more warm beer. 
American-made Grizzly Coolers are made of rotationally molded plastic, which makes them incredibly strong and provides optimum cold retention. The rotomolding process guarantees that every cooler can hold up to the toughest abuse, including bears. Grizzly Coolers go through strict IGBC bear resistance testing to make sure they are 100% bear proof. But Grizzly Coolers aren't only protective against wild animals; they are protective against the heat of the sun as well. If you need a cooler that will keep things cold on long journeys and hot summer adventures, then a Grizzly Coolers is what you need.