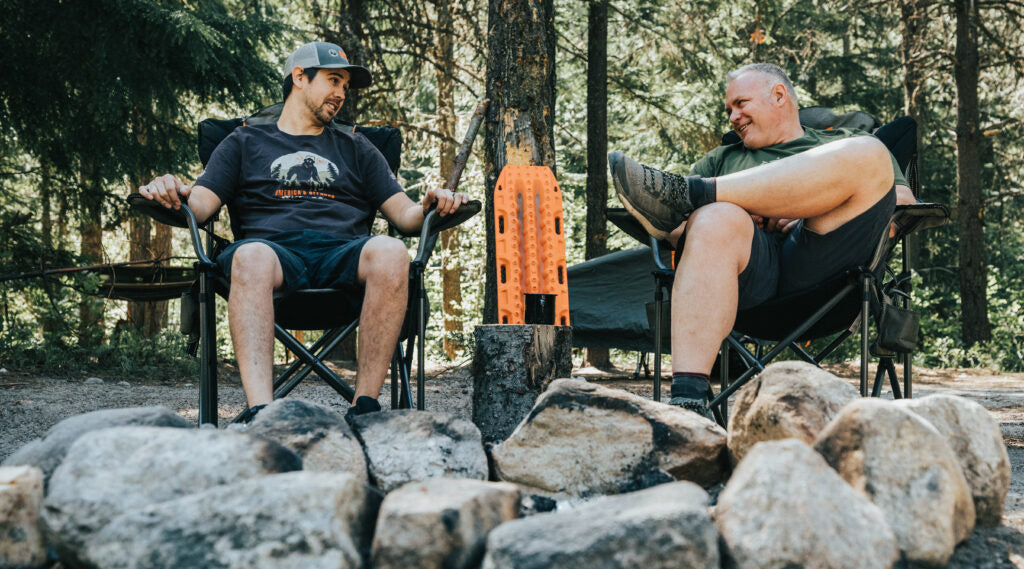 Camp Like a Pro, Even on the Busy Weekends
Summer is here and the time for great camping and wheeling trips has arrived.  With long weekends coming up, you'll have time to take on more trails and spend even more time with friends and family around the campfire at night.  It also means holiday traffic and full campgrounds are in the cards, though. We'll help you navigate the highs and lows with these helpful holiday camping tips before the next big weekend rolls around.
Plan Ahead
One of the most challenging parts of camping on a holiday weekend if going to be finding a good place to camp that isn't already booked solid.  Get around the hassle by planning ahead. If you know that you want to head out for a holiday weekend, get on the online booking systems as soon as the dates become available.  Different systems have different timelines for that, but most open up dates six months out.
What if it's last minute though?  There are still great ways to get outside with short notice, even on a busy holiday weekend.  If you're reading this website, odds are you're equipped to go offroad in search of the perfect dispersed camping opportunity.
Go Off the Grid
Getting into the wild and finding your own camping opportunity outside the noise and chaos of a campground on a holiday weekend may even be your first choice, regardless of how far ahead you're planning.  
Just make sure the area you're wheeling allows for camping outside of designated areas.  Permitting requirements vary by park system and individual recreation areas, so make sure to do your research.

Pro Tip: Check Out OnX Offroad GPS Maps To Find An Epic Place To Camp!
Know the Rules
Like we mentioned above, not everywhere allows for dispersed camping.  Beyond that, rules can vary wildly from place to place — some have very short limits on nights spent in one place, for example.  Holiday weekends can really bring out the crazy in other campers, and you don't want to come up against other campers or park rangers when you're inadvertently breaking the rules.
Protip:  If you're headed out for the 4th of July, confirm the rules around fireworks before you head out.  In some places, even possession of fireworks isn't worth the risk.
Plan for Traffic
We know, it sounds easy enough, but it's never as we make it sound.  Pack the trucks up ahead of time, and know what to expect for traffic on the way to your campsite.  If you're camping with kids, you'll have enough of a battle to get camp set up without dealing with with cranky kids who've been stuck in a car for hours longer than you planned on.  Be sure to check out our article on camping with kids for how to handle it like a pro.
Even if you're not traveling with little ones, you can extend your travel time by several hours by not paying attention to the traffic between you and your destination.
Get out ahead of traffic, and save the seat time for the trails.  Heck, if the traffic is bad enough, maybe you can just skip the roads and overland your way into camp for the weekend.  If you're going to travel slowly toward camp, you might as well take in some beautiful scenery along the way.
Set Up a Sweet Campsite
If you're going to be setting up in a single camp for a long weekend, now's the time to set up the kind of campsite that everyone else is jealous of. Check out some of our favorite Camp Furniture on our website! From tables to hammocks we've got a wide range of essentials! Keep your campsite's electronics charged up with one of Goal Zero's Power Banks. You can add functional light and a cool ambience with the GoalZero Light-a-Life Minis.
Even the most ultralight packers will want to have a solid kitchen setup when camp isn't moving for several days.  Take a look at the GSI Selkirk Stove, and consider making yourself at home in the wilderness on your next trip into the great unknown.
If you're planning on several days of moving camp sites, the considerations are a little bit different.  Consider an upgrade to a rooftop tent such as the SMRT Tent Summit Suite so you can minimize setup and teardown time when you're ready to get to the action for the day. 
Shop Early
If you know that there are truck parts or maintenance you're going to need to handle before you head out, don't put it off until the last minute.  Even the most helpful shops (ahem, like us) are reliant on distributors who can be overwhelmed with last minute orders in the lead up to a big weekend.  If the parts you need aren't in stock, shipping times can be tight, and you could be stuck in the garage wrenching until the wee hours of the night right before your trip.
Truck parts aren't the only shopping you should get ahead of when you're planning your long weekend adventures, though. Plan your meals for the trail early, and get to the store ahead of the rushes before holiday weekends.  If you're traveling with buddies, take turns cooking dinners in camp. Make your lists and shop early. Even if hamburgers and hot dogs are quintessential America, you don't want to be stuck eating that every night because you tried to pick up supplies in a small trailside town the day before a holiday.
Set Your Expectations
Unless you're making big efforts to find isolation on a holiday weekend, you're not likely to find it.  The trails will be busy, and the campgrounds will be even busier, and you're going to run into newbies on the trail at a higher rate than normal.  Take it all in stride, enjoy the ride, and have a great trip anyway.
No matter where your adventures take you, when you're ready to hit the trails, we've got all the gear and expertise you need.  Call or email our helpful team of offroad experts, and we'll get all your questions answered so you can have a great time on the trails without worrying about all the details.